WHAT IS IT?

The Cyclo-ssage Pro-Equine Therapy System is a full body deep tissue massage system directly developed from our medically approved human therapy systems using well proven and accepted technology. Designed for both professional and amateur owners alike the Pro-Equine provides a simple, portable, easy to use and reliable solution to muscular pain, stiffness and circulatory problems. Widely used both to enhance performance and speed recovery from injury the use of this non-invasive drug free method of resolving muscular discomfort is accepted at all competition venues and in all disciplines.
FULL BODY DEEP THERAPY SYSTEM

LIGHTWEIGHT & PORTABLE

EASY TO USE

COVERS THE ENTIRE MUSCLE STRUCTURE OF ThE HORSE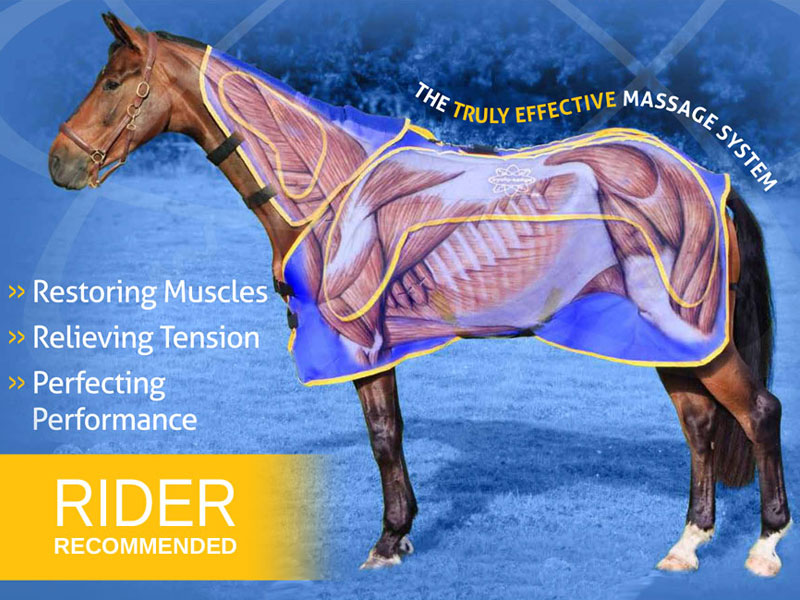 WHY CHOOSE CYCLO-SSAGE?

If you are looking to increase performance, reduce injury and maintain suppleness or your horse suffers from stiffness, asymmetrical development, lack of muscle or core strength, poor coordination, pole tension, lacks engagement, sore back muscles, neck tension, cold backed, is colic prone or has any behavioural issue/evasion that may have pain as a driver the Cyclo-ssage Ultimate could be the solution.
Nine fully automated massage programs
New timer allows treatment periods up to one hour
10% more powerful than previous model
Reduces tension and softens image
Enables core strength and muscle build up
The cutting edge of performance massage for your horse
HOW DOES IT WORK?

The Pro-Equine Therapy System uses oscillating vibration otherwise known as Cycloidal Vibration Therapy (CVT) to provide deep and gentle stimulation to the entire muscle structure. This should not be confused with the many massage systems that use percussive vibration as a basis which does not have the scientific benefits or advantages of CVT.
The system has 18 strategically positioned motors that have been developed to give an even and symmetrical delivery across the whole body including the deepest muscle structures and the neck area.
The stimulation provided by CVT reduces/eliminates muscular pain, increases bloodflow, stimulates lymphatic activity, increases joint mobility, improves respitory function and aids mental relaxation. It is also thought to speed up healing times, inhibit the formation of scar tissue and reduce muscle wastage in non active horses.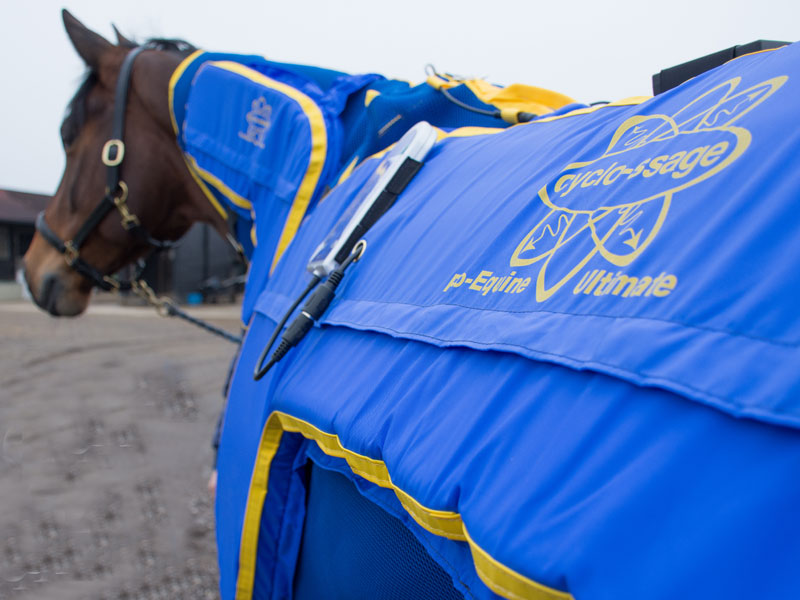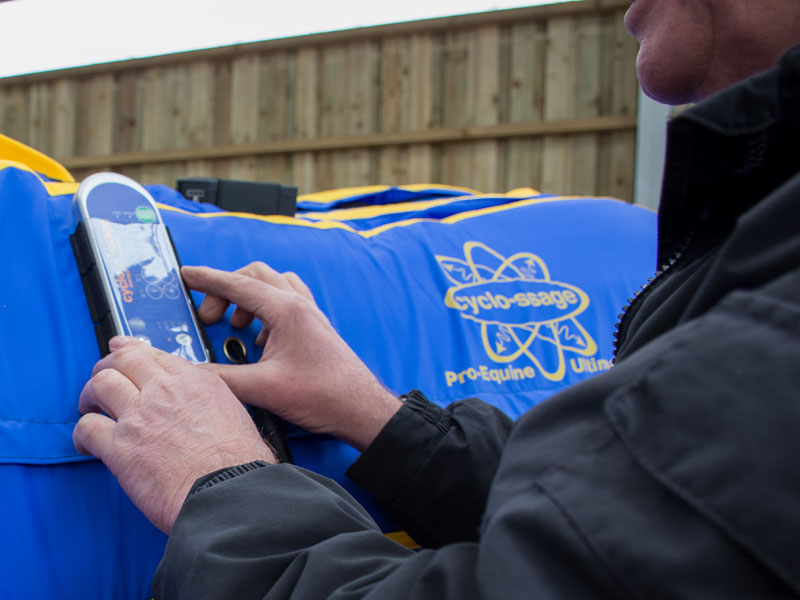 WHAT MAKES CYCLO-SSAGE SPECIAL?

We are the leading designers of full body oscillating vibration therapy units for equines. Our system is designed to spread the deeply penetrative effect as symmetrically as possible over the entire muscle structure whilst maintaining maximum comfort for the horse during treatment. Oscillation is a well proven therapy that relaxes sore muscle, reduces pain, improves blood flow, stimulates lymphatic drainage and toxin removal, enables faster muscle and core strength development and has been found to be effective in treating some forms of colic.
Unleash your horses true potential
See and feel immediate improvements
Take your training to a whole new level
Feel an immediate difference in how your horse moves
Would you like a demonstration?
At your home or business?
Do you want more information?
"Over the years I have tried many things including magnetic rugs to help my horse's muscles relax. I have been using Cyclo-ssage for a number of years now and will not go anywhere without it. I can't tell you the difference it has made to my competition horses."


Emile Faurie, International Dressage Rider and Trainer